Hello everyone and Happy Holidays! I hope everyone is enjoying the holiday spirit be it Thanksgiving, Christmas, and many others on the horizon! Time moves fast as it will be a month since Anime NYC. It feels like it was only yesterday that the horde of anime fans graced the Javits Center. Fans in cosplay, anime merchandise, and casual fans alike roamed through the exhibition halls, the artist alleys, and the plethora of panels to one's liking. How did Anime NYC fair in its 3rd year? Did it live up to its expectations as the premiere anime convention? Here are my thoughts on this year's convention.
The amazing Crystal Exarch cosplayer I met at Otakon who I ran into again! Please give them a follow at @nihohoho
Ever since its inaugural year back in 2017, Anime NYC had a reputation to live up to. Ever since New York Anime Festival folded into New York Comic Con, there has been a lack of a featured anime convention in New York. With my memories of the first year of the convention, it was a throwback to the more modestly smaller conventions that I was accustomed to. It didn't feel like a giant advertisement, but rather a convention made for fans and enthusiasts alike. A dedicated gaming section helped matters as well. I was used to the gaming section being a staple in out of town conventions, so to see one in a New York convention was a welcome surprise.
With the success of the first year, the second year doubled in attendance due to word of mouth. As the first year used a fraction of the Javits Center space, the second year used even more space this time around. While I unfortunately was only able to go for one day last year, I was able to go for all three days this year and this year was0 a major deal for several reasons.
The focus for Anime NYC this year was that it was the final stop of the Fate GO USA Tour. For the grand finale, special guest seiyuus Rumi Okubo and Aoi Yuki, the former being the voice of Astolfo and the later known for her voice of Madoka from Madoka Magica, arrived for the event.
Several special guests including the creator of the Gundam series, Yoshiyuki Tomino were also in attendance. Perhaps the most prolific name of special guests this year, Rie Kugimiya, graced American shores for the first time. Known for various roles including Taiga from Toradora!, Rise from Persona 4, Shana from Shakugan no Shana, and so much more, the "Queen of Tsundere" was a large deal. So large, in fact, that her exclusive autograph signing sold out in mere minutes.
This was where I felt Anime NYC in its third year was at its strongest. Even with high profile celebrities in the anime world, one can find something for everyone if they opt out of attending these panels or events. As featured in many articles where conventions are covered, cosplays from anime and games both new and old were in abundance. 
A sweet El who didn't have any contact information but you're awesome!
The floor for Anime NYC this year itself felt larger than it was the previous years yet condensed at the same time. The northern section of the Javits Center wasn't used for the convention as there was a chocolate convention held at the same time. This convention used the other half of the convention center. Regardless of the space being used, the condensed space was enough to feel cozy without feeling constricted.
An example of this would be the exhibition hall which attendees are greeted with. Directly to the left there is the dealers hall and directly behind the dealers hall is the artist alley. Moving up North are more exhibition booths where finally the game section is at the tail end of the floor.
The game room featured a similar lineup to what was featured at Otakon. A pleasant surprise was the inclusion of the new Sound Voltex 5. While the game is already playable at various Round 1 arcades, it was a treat to see the game at a convention on Free Play. I found myself coming back to this area when I needed to unwind, even if I sucked at majority of the games there.
For panels, I did not attend too many this time around. On Friday, I attended an Inti Creates panel which proved to be a very interesting experience.
The second panel I attended was the Blerd panel the following day. Featuring Blerdcon, the panel discussed what it's like to be African American and a nerd. As I fit both of these criteria, the panel felt like a unification of other guests who were just like me. Those who were picked on or bullied for being different. Those who didn't feel like they belonged within any group of people. The Blerdcon convention was, in short, a convention made for us, by us, although it is all inclusive. As someone who has seen the videos and pictures of the cosplays and the Blerdcon convention itself, you may very well see me out there for their next convention. Stay tuned!
All in all, while the weekend went by fast, it was an enjoyable experience. Out of state conventions like Otakon, or even Castle Point which is right outside city limits, are great to get out of the city once in a while. However, nothing beats the convenience of attending a convention that's close to home.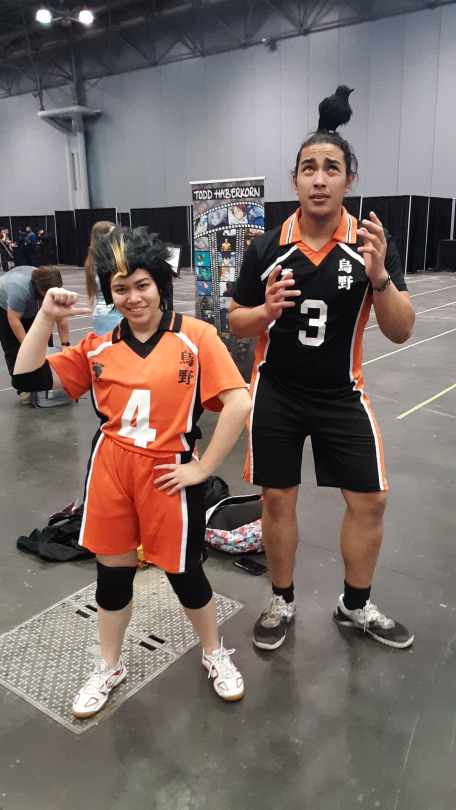 Yu (left @iziebuilds) and Asahi (right @andymcfearsome) from Haikyuu!
You save on travelling, you definitely save on lodging, and most importantly, you're around familiar people. If there's one thing conventions had taught me it's this. No matter where you're from or who you are, we all share a similar passion for anime, games, and overall the nerd culture which unifies all of us.
See you 2020 Anime NYC! On to more conventions for the next decade onward!