Bubble Bobble 4 Friends: The Baron Is Back Review
With the announcement of Bubble Bobble 4 Friends on Steam, now would be an as good time as any to talk about a game that has been a surprise hit in my eyes. Today I'll be reviewing the Switch version, but take my thoughts for the handheld version as the same as if it were on the upcoming PC version. The fact that Bubble Bobble joins the ranks of Puyo Puyo Tetris and other console-based titles on PC is amazing news enough.
For the uninformed, Square Enix had their gaming presentation earlier today titled "Square Enix Presents." Several games were announced, with the new Life is Strange being the headliner. However, one piece of news was a tad bit under the radar for some, with the announcement of a Steam port of Taito's revival of Bubble Bobble.
Bub and Bob's latest adventure is coming to Steam! Bubble Bobble 4 Friends lets you play with up to 3 friends in co-op, with new power-ups and 200 stages to complete 🟢🔴🔵 pic.twitter.com/4GP5yQ7cum

— Square Enix (@SquareEnix) March 18, 2021
So, how does Bubble Bobble 4 Friends stack up? Is it a pop sensation or does it burst your bubble? What will Steam owners have to look forward to now that the game is announced for the platform? I hope to answer all of these questions in a quick bite review!
BB4F's gameplay is simple. You control Bub and Bob, two cute green and blue dinosaurs, as they hash it out with an evil wizard in a child's bedroom. It's implied that this is all going on through a child's dream, but, regardless, the story is meant to paint a picture of the hundreds of levels you'll go through and nothing more. You blow bubbles, trap enemies inside, and either run into the enemies to "crash" into them or you jump on them to pop the bubbles. Eventually, you obtain upgrades to help assist your progress as later levels become difficult.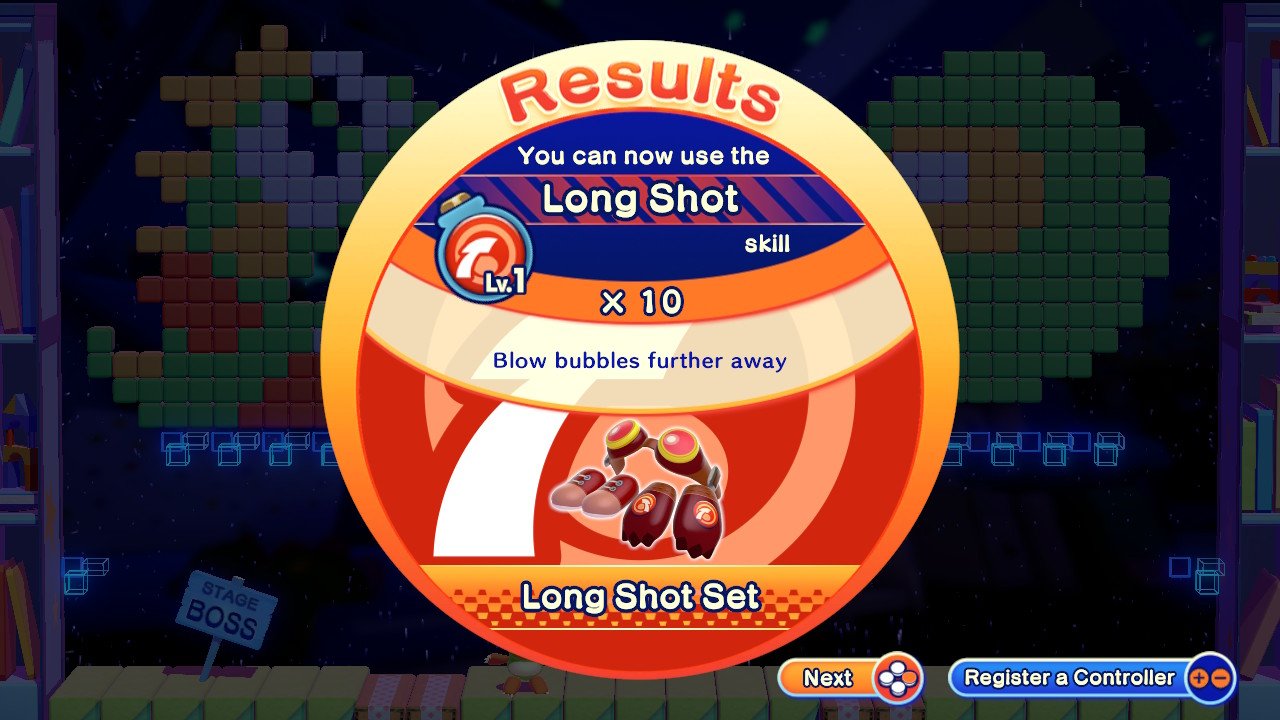 The gameplay is deceptively simple, a nice callback to the classic Bubble Bobble gameplay that is also included with the base game for curious minds and Bubble Bobble veterans. The graphics are simple yet vibrant with colors as effects glare and pop the screen. Even on a Switch Lite, the gameplay was not tarnished in the slightest. The pick-up-and-play gameplay was meant for the portability of the Lite, considering how quickly I can resume gameplay after time has passed.
It had taken me quite a while to complete everything, including the bonus The Baron Is Back content, adding even more levels, and challenging gameplay once players have mastered the base BB4F gameplay. There is quite a lot of content to enjoy that will keep vigilant players occupied for a very long time and now that Steam players get to enjoy it, it's even more of an incentive to try it out for yourself.
Bubble Bobble 4 Friends is available on the PS4 and Switch, with a PC port on the way sometime in 2021.
The Lost Summer recommends! ✔️